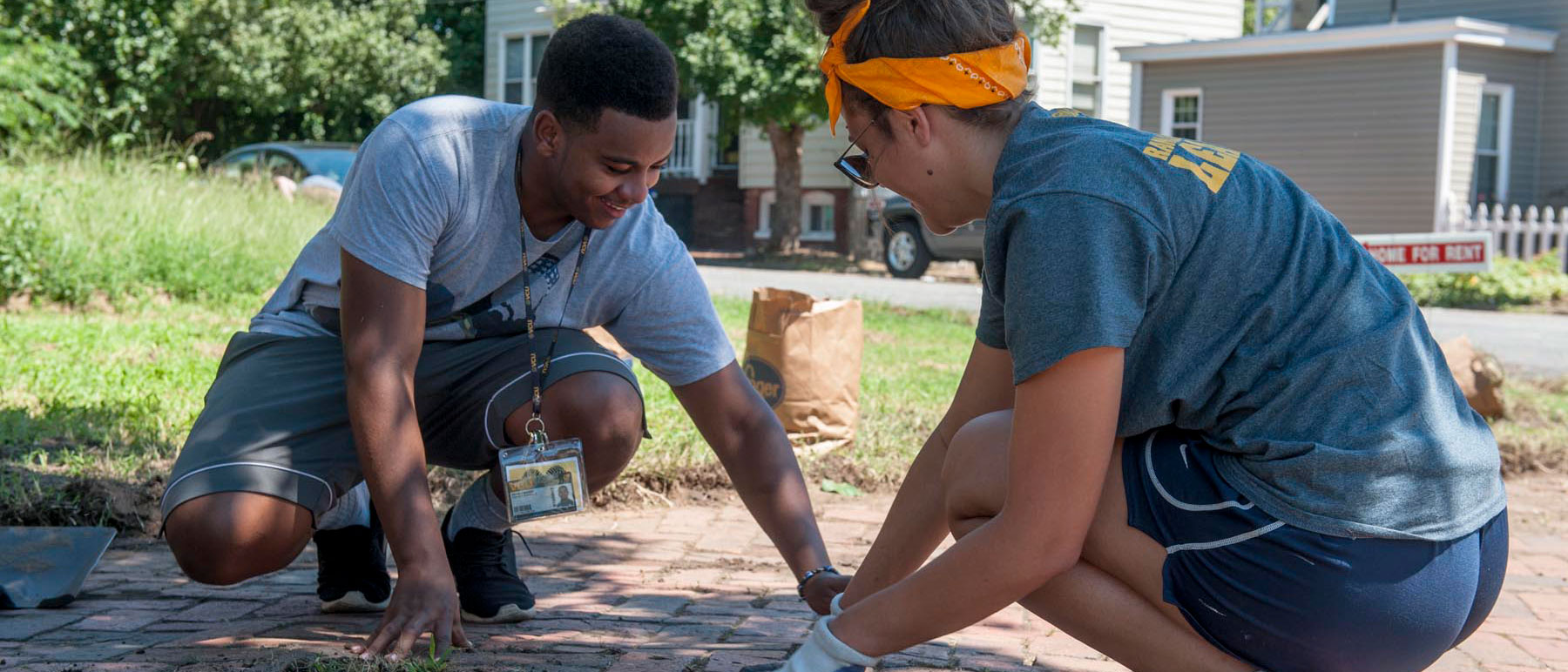 Community Engagement
Students in College of Humanities and Sciences are part of the dynamic and vibrant Richmond metro community and engage with the community in various ways—through personal volunteerism, service learning classes and community research experiences. Are you interested in tutoring a student from a local elementary school, working on a community garden in a food desert or volunteering at a local health clinic? These are just a few of the many activities our students are engaged in. Find ways you can get involved below.
Featured Organizations
Students, staff, and faculty are engaged with several community organizations in the Richmond metro area.
Sacred Heart supports Latinx/Latino families in the Richmond metro area by providing them with tools to thrive and flourish. Sacred Heart provides an array of services and resources, such as adult GED classes, English as a second language (ESOL), conversational Spanish and the Latino Leadership Institute. The organization offers several youth and children's programs, such as Casa Lupiz, in which middle school ESOL students explore different art mediums including drawing, painting and sculpture. Volunteers are essential to Sacred Heart. They teach English classes, tutor Spanish and GED classes, read to children, paint murals on the walls, help register students, record attendance, practice citizenship interview skills and photograph events among many other activities.
Equality Virginia (EV) is the leading advocacy organization in Virginia seeking equality for lesbian, gay, bisexual and transgender (LGBTQ) people. EV advances LGBTQ protections by monitoring LGBTQ-related legislation in Virginia and advocating on behalf of Virginia's LGTBQ community. EV also seeks to move Virginia's transgender and non-binary community toward equality through community conversations, resources and community connections. Several opportunities exist to get engaged in EV (e.g, donations, petition work and/or hosting a speaker).
Health Brigade, formerly known as the Fan Free Clinic, is Virginia's oldest free and charitable clinic located in Richmond's historic Fan District. Health Brigade was established in the 1970s as a small community clinic and patterned itself after similar efforts in San Francisco's Haight-Ashbury neighborhood. Health Brigade provides diverse and integrated medical, mental health, community outreach and care coordination services for low-income and uninsured persons. Health Brigade has several volunteer opportunities for healthcare professionals as well as mental health and wellness internships, and group volunteer opportunities.
my service experience

Carver Dance gave me and other VCU students an opportunity to use our skills and knowledge from the classroom to support nearby Richmond communities. It is so fulfilling to see kids open up and have fun with the dances we share with them, as it shows us that they feel more comfortable expressing themselves.
Community Engagement Highlights
March 21, 2023
The project by VCU, University of Richmond and community partners will make it far easier for descendants to find graves of family members at the historically African American cemeteries.
March 6, 2023
Ferguson, a student in VCU's Spanish-English Translation Interpretation Certificate program, says it feels "meaningful and rewarding to be able to put my abilities to use in a way that helps people and helps to maintain the integrity of our legal system."
Feb. 24, 2023
VCU's journey of reflection and transformation continues with commission that will strive to continue to acknowledge the institution's past, engage continuously with the community and make meaningful changes.