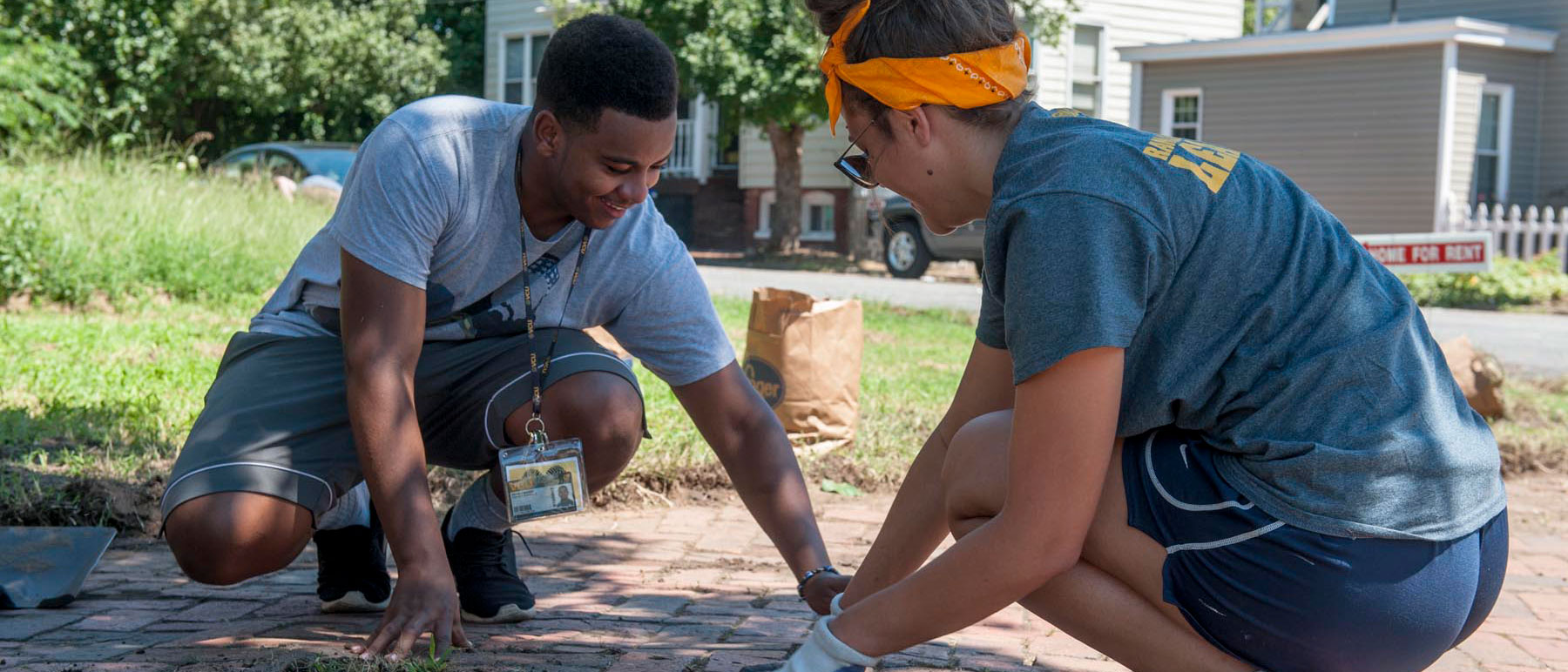 Community Engagement
Students in College of Humanities and Sciences are part of the dynamic and vibrant Richmond metro community and engage with the community in various ways—through personal volunteerism, service learning classes and community research experiences. Are you interested in tutoring a student from a local elementary school, working on a community garden in a food desert or volunteering at a local health clinic? These are just a few of the many activities our students are engaged in. Find ways you can get involved below.
Featured Organizations
Students, staff, and faculty are engaged with several community organizations in the Richmond metro area.
Sacred Heart supports Latinx/Latino families in the Richmond metro area by providing them with tools to thrive and flourish. Sacred Heart provides an array of services and resources, such as adult GED classes, English as a second language (ESOL), conversational Spanish and the Latino Leadership Institute. The organization offers several youth and children's programs, such as Casa Lupiz, in which middle school ESOL students explore different art mediums including drawing, painting and sculpture. Volunteers are essential to Sacred Heart. They teach English classes, tutor Spanish and GED classes, read to children, paint murals on the walls, help register students, record attendance, practice citizenship interview skills and photograph events among many other activities.
Equality Virginia (EV) is the leading advocacy organization in Virginia seeking equality for lesbian, gay, bisexual and transgender (LGBTQ) people. EV advances LGBTQ protections by monitoring LGBTQ-related legislation in Virginia and advocating on behalf of Virginia's LGTBQ community. EV also seeks to move Virginia's transgender and non-binary community toward equality through community conversations, resources and community connections. Several opportunities exist to get engaged in EV (e.g, donations, petition work and/or hosting a speaker).
Health Brigade, formerly known as the Fan Free Clinic, is Virginia's oldest free and charitable clinic located in Richmond's historic Fan District. Health Brigade was established in the 1970s as a small community clinic and patterned itself after similar efforts in San Francisco's Haight-Ashbury neighborhood. Health Brigade provides diverse and integrated medical, mental health, community outreach and care coordination services for low-income and uninsured persons. Health Brigade has several volunteer opportunities for healthcare professionals as well as mental health and wellness internships, and group volunteer opportunities.
my service experience

Carver Dance gave me and other VCU students an opportunity to use our skills and knowledge from the classroom to support nearby Richmond communities. It is so fulfilling to see kids open up and have fun with the dances we share with them, as it shows us that they feel more comfortable expressing themselves.
Community Engagement Highlights
Aug. 31, 2021
Humanities Research Center to host slate of speaker events this fall
The center, part of the College of Humanities and Sciences, will feature events headlined by experts on a variety of topics, ranging from gerrymandering to Richmond's historic cemeteries.
Aug. 6, 2021
VCU assistant professor working to reform the Richmond Police Department
Eli Coston, Ph.D., has been involved with helping the LGBTQ+ community as well as advocating for civilian oversight of the Richmond PD.
July 8, 2021
Camp ADventure continues for a second year, offering students an up-close look at advertising
Students and industry professionals worldwide are benefitting from the Robertson School's inclusive summer program.
July 6, 2021
$1.4M grant will support free behavioral health services to underserved youth
The grant will expand VCU's Primary Care Psychology Training Collaborative with a focus on rural and low-income minority youth and their families.
June 16, 2021
Enjoli and Sesha Joi Moon's JXN Project is an effort to tell Black Richmond stories 'truthfully and completely'
The siblings cultivated their pride from the teachings of their parents, political activist and former music producer August Moon and Michon Moon, Ph.D., a recognized expert in victim-witness services.
June 9, 2021
Students get REAL
Six students share their hands-on learning experiences at VCU and what they got out of them.
May 24, 2021
Song and Everhart awarded inaugural Community-Engaged Research Impact Grants
The grant was developed in partnership with VCU Real and the Undergraduate Research Opportunities Program.
April 28, 2021
At annual PACME awards, recognition for those 'who are willing to go deep'
Five from across VCU are honored for their work to promote civility, build community, advocate for equity and nurture a welcoming and inclusive environment.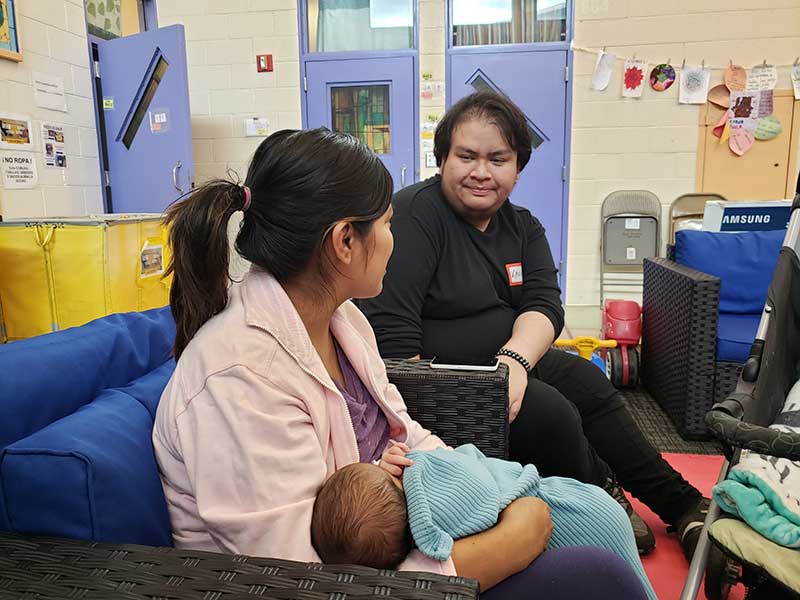 April 2, 2021
Helping the Hispanic community in the midst of the pandemic
Students in the VCU service-learning course Hispanic Immigrants in the U.S. are continuing to make a difference.
March 9, 2021
Discovering new voices at the VPM + ICA Community Media Center
The center, which helps students and Richmonders create podcasts, is a forum for community storytelling, and a way to "find new voices that we need to hear."
Feb. 23, 2021
Ana Edwards is preserving Black history — and sharing it with others
The VCU alumna and chair of the Sacred Ground Historical Reclamation Project, will receive the VCU history department's highest honor for graduate alumni March 18.
Feb. 11, 2021
At the General Assembly (sort of) with VCU's capitol semester students
Interns at the Virginia State Capitol this legislative session are doing most of their work virtually. It's still "a very cool experience," they said.
Feb. 8, 2021
Hundreds of students are volunteering and providing shots at vaccination events
With some VCU students already trained and others lined up for training, volunteers are ready to address the need for more COVID-19 vaccinators and take on roles that will serve them in their careers.
Feb. 4, 2021
Art goes virtual at annual Black Lives Matter show
The Black Lives Matter RVA Art Show features works from dozens of artists that highlight inclusivity and racial justice.
Jan. 19, 2021
A new group virtually connects VCU student volunteers with local organizations
Virtual Volunteer at VCU has paired hundreds of students with more than a dozen Richmond partners, creating a sense of community in a time of distance.
Oct. 19, 2020
VCU grads organize to help in Beirut relief efforts
2,200 pounds of supplies are being distributed in the city, which was devastated by an explosion in August.