Students share stories of life-changing experiences made possible by Baldacci gift
May 1, 2019
Bestselling novelist and VCU alumnus David Baldacci met with students who have received awards through an experiential learning fund and a political science scholarship he created with his wife, Michelle. (Photo by Kevin Morley, University Relations)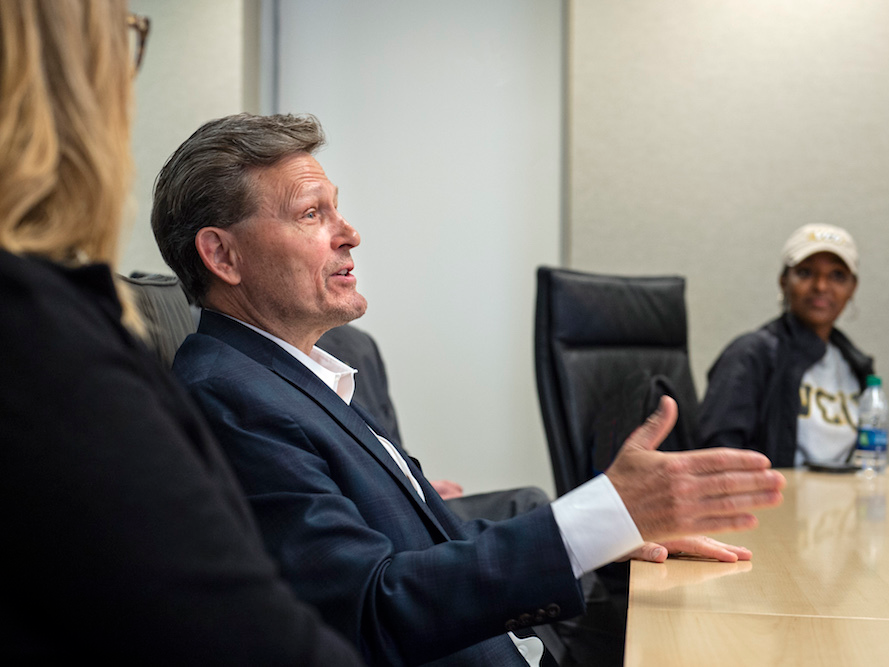 Bestselling novelist and Virginia Commonwealth University alumnus David Baldacci visited campus Tuesday to meet with 20 students who have received awards from two funds — one that provides experiential learning opportunities and another that supports political science students — that were created thanks to a $1.1 million gift to the College of Humanities and Sciences from Baldacci and his wife, Michelle.
Baldacci, who received a bachelor's degree in political science from VCU in 1983 and a law degree from the University of Virginia School of Law in 1986, has published 37 novels for adults, all of which have been national and international bestsellers, and several of which have been adapted for film and television. His novels have been published in over 45 languages and in more than 80 countries, with more than 130 million worldwide sales. He has also published seven novels for younger readers.
In 2017, the Baldaccis' gift created the Baldacci Student Experiential Learning Fund, which provides grants of $1,000 to $5,000 to academically promising VCU students from diverse areas of study and backgrounds to allow them to pursue internships, conferences, research, domestic or international study abroad, and social entrepreneurship opportunities.
"When my wife and I were talking with the university about what we wanted to do, we sat down and talked about: What would we have liked to have had the opportunity to do when we were students?" Baldacci told the VCU students. "For me, and I think for my wife as well, it was something outside of the curriculum, some experience that you otherwise wouldn't have had the opportunity to pursue."
The Baldaccis' gift also led to the creation of the Baldacci Political Science Endowed Scholarship, which was the first such scholarship for the Department of Political Science and is one of the largest in the College of Humanities and Sciences.
Last year, a dozen students were in the inaugural cohort of the Baldacci Student Experiential Learning Fund. Another 12 recipients were selected this spring.
Tuesday morning in James Branch Cabell Library, Baldacci heard about the life-changing experiences made possible by the fund.
Kristina Donnally, a double major in anthropology and history, for example, told Baldacci about how her award allowed her to work as an intern and study at an archaeological excavation site in Israel last year.
"It was the best experience of my whole life," Donnally said. "It was my second dig, and after my first one [I] was nervous about how I was going to get the money to go on another dig because archaeology is such a competitive field and you have to have lots of field experience for grad school. … Being able actually to work on the site led me to being hired as staff for this summer and I will be the youngest staff member of the entire crew."
Another recipient, biology major Sam Moon, studied abroad in Australia for a semester.
"It was really a lot about pushing myself to be more like fiercely independent by necessity and pushing myself outside my comfort zone," Moon said. "I really wanted to like jump off into a totally new environment. So it was really a great experience for me. It [allowed me to be] immersed in a completely new place with completely new people. … And also it was fun being a biology major in Australia because they have such fun wildlife around. Harrowing spider encounters! But it was a thoroughly great experience."
Yet another recipient, Jordan Rasure, a double major in biology and Spanish, will be using her award this summer to take part in research studying prothonotary warblers along the James River.
"This [award] has made it so much easier for me to be part of that because I have to be extremely flexible — birds don't wait on anyone, and nor do the tides," she said. "We'll actually be going out in canoes in order to gather this research, checking nest boxes, looking at the birds. Do they have bands on them already? Do we need to band them? And I'm really hoping that all of the skills I garner through this experience this summer will be able to help propel me into grad school."
Baldacci said the students' experiences around the globe and outside the classroom underscore his and his wife's goal for the fund.
"As a writer, I always want to get outside of my comfort zone because if I don't, then my writing is going to grow stale and uniform and formulaic and nobody's going to be inspired by it," he said. "Sometimes, as students, you get into these routines where you go to class and you study material and you take your tests and you move on. It's a narrow box. So we wanted to give an opportunity to get outside of that narrow box and go to a place that maybe you never thought you'd be able to go and meet people you never thought you'd have an opportunity to meet."